Plaques
We can manufacture a variety of Remembrance Plaques using either indoor or outdoor acrylic material with sizes up to 635 x 430 mm. The outdoor material is reputed to last up to 35 years.
Plaques can be supplied with a heat resistant double sided tape attached to the back or customers may choose to use some other form of fastening.
A sample design and price can be supplied prior to confirmation of the order.
Examples and prices of recent work are :
This plaque is manufactured in Acrylic Brushed Gold outdoor material.
The size is 210 x 150 mm and priced at $50.00 + GST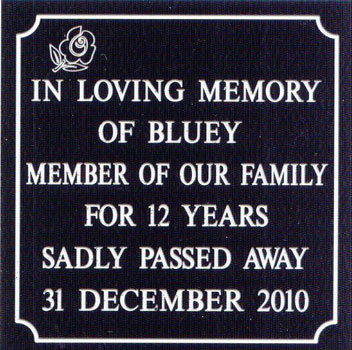 This plaque is 90mm x 90 mm in size and engraved on Glossy outdoor material.
The price for a plaque this size is $20.00 + GST